An Interview with Anastasija Zihareva – International Intern at Jonge Harten
On a cold dark November evening there is warmth and activity in the Groningen Student Hotel. People from all around the world get together to eat, drink and talk. As Anastasija comes in, she seems at ease. She gets me a glass of wine, and we sit ourselves down onto a comfy sofa. She starts talking right away, I've got some questions written down for her, but I won't need them tonight.
She is half Finnish, half Russian, born in Latvia. Anastasija is an international by heart, which makes the Student Hotel the perfect place to meet.  She tells me she came to Groningen five years ago, and elaborates further on how: 'The first days in Groningen were overwhelming, a new city and a new language, making new friends.' Anastasija tells me about her start here. 'I felt at home here in The Netherlands, I liked Groningen from the very beginning.
'This country fits my temper'
She talks about our cultural differences, about Latvia and The Netherlands, the people, and the weather. I think this country fits my temper, I'm open and honest, I think Dutch people like that.' She is right, we are finishing our second wine now and I feel like talking to someone I have known her for a while.
In search of a decent internship, she came across Jonge Harten. 'I wrote them a letter immediately,' she smiles, 'I knew it would fit me.' That is how she got involved in Jonge Harten, but how do you get internationals involved in a theatre festival?
According to Anastasija there are two challenges. Getting people involved in theatre in general and getting internationals involved in a Dutch theatre festival with a Dutch name. She started an international promo team for Jonge Harten. She likes the personal approach. Groups of Dutch and international students work together to let everyone who wants to hear it know about the festival. Her job is very rewarding, she tells me about making new friends, both international and Dutch.
Her dedication to make Internationals feel at home in Groningen seems limitless. Her work for Jonge Harten is just one aspect. Together with the City Council she created a website full of cultural activities in Groningen, www.here-and-now.nl.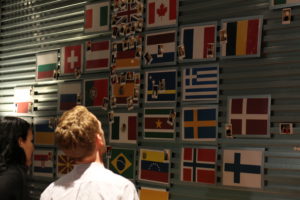 We talked about her history and her life here in Groningen. During our last sips of wine, she tells me about her plans for the future: " I feel like staying here for now, but, of course, you can never be sure what and where life brings you."
Join Jonge Harten's International meetups:
Saturday, 18th November| 19:30| Here & Now international meetup
Monday, 20th November| 19:30 The Third Culture Kid discussion. Join the discussion and share your views on living in a more and more globalized society. Afterwards we will watch Joseph Simon's performance Third Culture Kid.