They move behind the scenes, they sit in front of the stage armed with pen and paper, they come up to you and start a conversation. Who are these people? Seven Dutch and four International bloggers will write about their experiences at Jonge Harten Festival. Right here is where you get to know our International bloggers. Through their eyes you'll get to know the festival.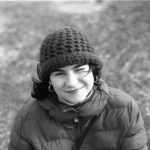 Ana-Ilinca
As a kid, going every week to the theatre made me develop a passion for actors and acting in general. Back then, my ultimate dream was to become a performer, which suddenly changed when I discovered cinema in high school and I found myself more interested in investigating the two mediums-film and theatre-together.
My name is Ana-Ilinca and I am majoring in film and theatre following an analytical track. When writing, my ultimate goal is to be able to evoke the feeling I have when experiencing an object/performance/artefact/sensation etc. So get ready for a whirlwind of experimental writing which might seem ambiguous at times. By 'experimental' I mean that you will witness me only just starting to develop my blogging career.

Johanna
Hello there, this is me, Johanna. I am a 20 year old Arts, Culture and Media student or one could also describe me as: emotional, enthusiastic, and a 'messy head'. And this is exactly what you can expect from me on this blog – I will try to translate my emotions, all of the excitement and thousands of thoughts into words.
I am very passionate about theatre, so I really can´t wait to start watching, listening, thinking, and feeling all of the great performances and just being surrounded with creativity at the Jonge Harten Festival. And off course to share it all with you guys!!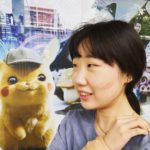 Jiāyùn/Monica
你好(Nǐ Hǎo!), which is 'Hi!' in Chinese. My name is "Jiāyùn", and now you also know how to say 'lucky' in Chinese, since they share the same pronunciation!
Actually, my friends would just call me Monica. This name is taken from a character of a French play, which is also the first role I played on stage in my life. That show was a total mess… But since then, I spent four years in the university troupe, worked as an actress and a promoter. Before that, I was a nobody and always hesitated to do what I really want to do.
Somehow, I believe that it's theatre that keeps giving me courage to get a real life, and maybe that's why I'm here now. I quitted my job in Beijing, and now I'm study arts and culture, starting a brand-new life in a country where I have never been before.
I'm fully ready to see the young power of theatre in Groningen, are you? I'm expecting to show you something unexpected, maybe some cultural shock, a little awkward moment, the details you wouldn't perceive and my honest feelings for sure.

Catrinel
I was once asked if my general state of being fearful is in any way related to not knowing who I am. Maybe it's just me, but there is always a certain degree of comparison involved in the answer to this question- " So am I really creative or is it just the way in which I basically think?" Anyhow, to cut down some of those degrees, I am as confused and curious as I imagine everyone is when having to define themselves.
Regardless of all uncertainty, I will, in opposition to myself, try to contour a limpid perspective, for all wondering spirits, of what it is that Jonge Harten is. To be kept in mind, for now and for other times that could replace this festival, the challenge is to discover yourself through the show and the show through yourself. For what is left, I guess fear only rests in souls that grow old.